Year 3/4
Welcome to Primary 3 and 4.
Primary Four is an exciting and fun year at school, full of lots of opportunities to see, experience, learn and develop a range of skills and concepts across different areas of the curriculum.
Literacy: Within the class we are following the Linguistic Phonics programme, which will help us with our reading and our spelling. We are also using the Accelerated Reading programme which will help us improve our reading skills. Our library is well stocked with books for AR so we have plenty of choice. We will have plenty of opportunities to use iPads to display our writng and to turn our creative writing ideas into digital ebooks.
Numeracy: Throughout Primary 3&4 we will be learning lots about the five main elements of Numeracy and Mathematics to include: Processes in Mathematics, Number, Data Handling, Measures and Shape and Space.
Religion: Primary 4 is a very important year for everyone in our class as we will be preparing to celebrate the sacraments of Reconciliation and First Holy Communion. We will be working closely with Fr. Farren to make sure we are well prepared for each of these special days. Primary 3 will focus on the Grow in Love programme.
World Around Us: This year we will be studying:
Celebrations
Winter and Christmas
Houses and Homes
Safe and Sound
Whatever the Weather
Bugs, Birds and Beasts
I.C.T: Primary 3&4 will get the opportunity to participate in a variety of ICT based learning activities. They will gain experiences in using laptops, digital cameras, virtual learning environments to include Learning NI, and they will utilise the Interactive Whiteboard in their learning experiences across various aspects of the curriculum. We are also very excited to be using iPads to help our learning this year. We will be making animations, videos, digital photos and ebooks. This is a great new way to showcase our learning.
The Arts: All of the Arts will be delivered through our World Around Us topic.
P.E: P3 will have P.E. every Thursday and P4 will have PE on a Friday. Please bring the appropriate P.E. kit on these days.
Personal Development and Mutual Understanding: We thoroughly enjoy learning about all aspects of the PDMU programme because we get the opportunity to explore our personal and emotional development. Through our circle time and weekly lessons we learn all about health and safety, relationships with others, and how we can work together for our own good and the good of our community.
These exciting topics will mean there will be lots to keep us busy and lots of cross curricular links to enjoy!
Latest Photographs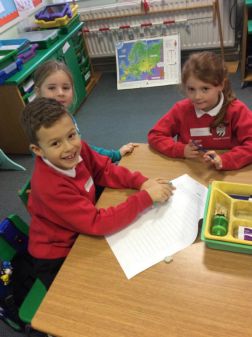 Glendermott Primary School & Nusery Unit, 50 Ardmore Rd, Derry Northern Ireland BT47 3QZ
Phone: 028 7134 9489